Nanoparticle dispersions
Mathym® is being part of Baikowski® group since September 30, 2019 and is specialized in the development  of innovative and unique nanodispersions.
Its core expertise relies in nanomaterials consisting in inorganic nanoparticles dispersed in liquids.
The different inorganic parts that have been developped since inception convey sought critical properties (e.g. radiopacity, refractive index enhancement, wear resistance, highly-active catalysts) while their nanosized structures preserve a very high level of transparency and increase their activity when high specific surface areas are at stake.
Their versatile technology is an asset to manufacture  solutions that meet customer requirements and enable to address emerging markets.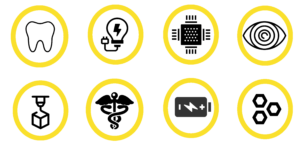 Mathym® is certified ISO 9001.
Innovative Colloidal Solutions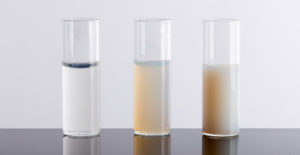 Mathym's ultra-small fluoride & oxide nanomaterial dispersions for high-end applications have the following characterisitcs:
• Narrow particle size distributions
• High crystallinity particles
• Agglomerate-free dispersions
• Stable and homogeneous dispersions in water, solvents, monomers
Mathym's portfolio
Mathym industrial products, Zilight@ and Filyxio@, are currently used in the biomedical (dental and orthopedic), catalysis, ceramics and 3D-printing sectors.
zilight® (ZrO2) allows tunability of the refractive index while maintaining high transparency for display and optical applications such as LED, XR or ophthalmic coating.
filyxio® (YbF3), a best-in-class radiopacifier for dental composites, allows the deepest curing and the most aesthetical restorations.
Among the products in development with high potential for future growth, there is Mathym's highly crystallized nano-CeO2 that features an exclusive narrow particle size distribution enabling exquisite removal rate and defect control in Chemical Mechanical Polishing