Baikowski® supports Handi, Move & Fun
Why the Rally des Gazelles ?
Baikowski® is committed to a strong Corporate Social Responsability policy with values focus on gender equity, disabilities inclusion and innovation promotion. Today, we are supporting LEA crew who is racing on behalf of Handi, Move & Fun at the 32nd Rallye des Gazelles. The event will take place in the Moroccan desert from March 3 to 18, 2023.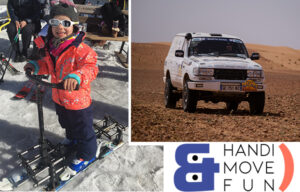 Since 1990, the Rallye des Gazelles has been a unique, responsible and citizen race, that gather women from 18 to 71 years old each year in the Moroccan desert. It is based on three pillars: woman commitment, respect of the environment and positive citizen actions.
The racers, selected on their motivation and a non-discrimination basis on grounds of nationality, experience, background or age, are involved in an adventure that:
promote tolerance, solidarity and perseverance values,
respect the country crossed thanks to the solidarity actions carried out,
is environment friendly. In fact, The Rallye Aïcha des Gazelles is the only race certified ISO 14001 since 2010 in the world.
Handi, Move and Fun & Baikowski® common values
Freedom, Equality, Accessibility!
Created in 2022, Handi, Move & Fun aims at enabling each child with a physical, mental or sensory disability to practise sport and make their rehabilitation playful at the same time. The association allows them to benefit from specific equipments and to rediscover the pleasure to take part in sport activities with their peers without disabilities, especially their family!
The association has various missions such as:
raising awareness among the public and parents of children with disabilities on the issue of accessibility and inclusive sport,
giving tips and advice to adapt activities to children with disabilities,
raising funds to subsidize sports sessions thanks to a specific equipment rental or purchase for all needed families, especially with a limited budget.
More information available on www.handimovefun.com